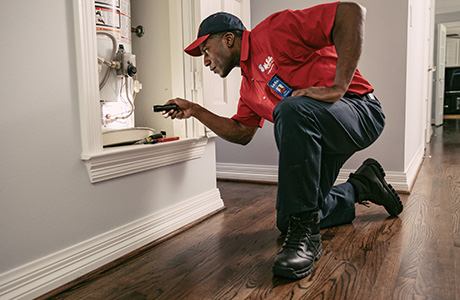 Water Heater Repair & Replacement in Fort Worth, TX
When it comes to your home's water heater, it's important to ensure it's working properly at all times. From providing hot water for your morning shower to washing dishes, your water heater is a vital component of your daily routine. At Mr. Rooter Plumbing, we offer a wide range of services to keep your unit running efficiently and effectively including new installations, replacements, and water heater repair in Fort Worth, Texas, and nearby areas. From tankless water heaters to traditional electric or gas models, our specialists are experienced in handling a variety of systems. Speak with our team today to find out how we can help get your water heater back under control.
Signs You May Need to Schedule a Water Heater Repair in Fort Worth, TX
Your water heater is a crucial appliance in your home, providing hot water for everything from showers to laundry. However, like all appliances, your water heater may experience issues over time that require professional attention. Some signs that your water heater may need repair include a lack of hot water, strange noises coming from the unit, leaks, and rust-colored water. If you notice any of these signs, it's essential to call a professional to inspect your unit for signs of trouble.
When to Invest in a Hot Water Heater Tank Replacement in Fort Worth
Like any other appliance, water heaters have a limited lifespan. That means at some point, you will need to consider replacing it. There are several factors to consider when choosing between a repair or replacement service, including the age of your current water heater, its efficiency, and any signs of damage or wear and tear. Generally, a water heater should be replaced every 10-15 years, depending on the model and usage. If your water heater is nearing the end of its lifespan, it may be time to invest in a new water heater installation in Fort Worth.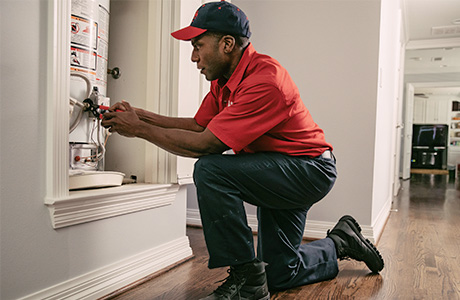 Reasons to Hire a Professional Plumber for Your Installation, Repair, or Replacement
When it comes to water heater services, many homeowners may be tempted to attempt these tasks themselves to save money. However, hiring a professional plumber is always the best option to ensure the job is done correctly and safely. Plumbers have the necessary knowledge, expertise, and tools to handle any water heater-related issue, whether it's installing a new system, repairing a faulty one, or replacing an old one. A professional plumber in Fort Worth will also be able to identify any potential issues and offer solutions to prevent future problems. Attempting to install or repair a water heater without the proper knowledge and tools can be dangerous and may result in serious injury or property damage. Additionally, if the installation or repair is not done correctly, it can lead to higher energy bills, reduced efficiency, and potential safety hazards such as gas leaks or water damage. By hiring a local plumber for your repair or hot water heater tank replacement in Fort Worth, you can ensure that your investment is installed or repaired correctly, saving you money in the long run and ensuring that your home is safe and comfortable.
Do You Need Professional Care for Your Gas or Electric Water Heater?
At Mr. Rooter Plumbing, we specialize in providing top-quality water heater services, including tankless water heaters. Our experienced plumbers are dedicated to providing exceptional service and have the knowledge and dedication to ensure that your system is working at its best. Contact us today to learn more or to schedule an appointment for your next inspection, repair service, or water heater installation in Fort Worth, Texas, or another North Texas community.