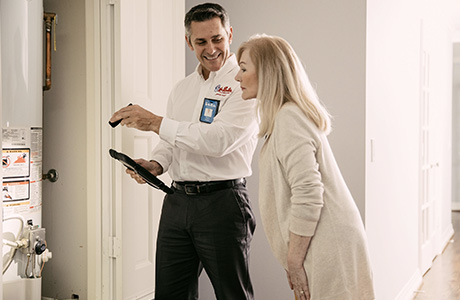 Plumber in Grand Prairie, TX
When the sinks don't drain as smoothly as they used to, or when the faucets and showerheads feel like they're barely trickling, it is time to call a plumber. Dealing with small issues early on can prevent bigger problems down the line. Why postpone plumbing repair in Grand Prairie when quick and affordable service is just one call away? Mr. Rooter Plumbing of Fort Worth is proud to service both residential plumbing and commercial plumbing systems. Call Mr. Rooter Plumbing at any time of the day to schedule plumbing service or request an emergency dispatch to your location. We are ready when you are.
Take preventative measures
No one likes unexpected plumbing repair. Though accidental damage and sudden misfortune can strike at any given time, there is a lot you can do to reduce the risk of surprise repairs. Preventative measures are crucial. For instance, install drain filters and garbage disposals to catch debris before it has a chance to clog the drains. Further, consider a water filtration system to prevent sediment buildup in the water line or water heater.
For an extra line of defense, invest in routine inspections and maintenance. It's impossible to prevent all debris from getting down in the drains. Periodic drain cleaning, for instance, can clear the drains before debris buildup develops into severe blockages, and the plumber can examine the plumbing system for corrosion, wear, and tear, and other issues that can be resolved before they become big problems. Call Mr. Rooter Plumbing to schedule a plumbing service in Grand Prairie and nip potential plumbing issues in the bud.
Schedule timely plumbing repair in Grand Prairie
Plumbing issues are not going to go away with time. In fact, they are probably going to get worse and worse. A leaking, for instance, can waste thousands of gallons of water throughout the year and it can turn into a burst pipe in the blink of an eye. Schedule timely plumbing repair to save yourself from untimely replacements later. A plumber in Grand Prairie can get to the root of the issue and save you from headaches down the line. Call Mr. Rooter Plumbing at any time of the day. Our uniformed plumbers in Grand Prairie are always happy to help.
We serve homeowners and business owners
Commercial plumbing tends to be a bit heavier and more complex than residential plumbing, which is why many plumbers only service residential plumbing systems. At Mr. Rooter Plumbing, our plumbers are experienced, trained, and equipped to work on both. Business owners and homeowners alike can call Mr. Rooter for quality plumbing service and plumbing repair in Grand Prairie. We are ready to schedule a convenient appointment or arrange emergency repair today.
Emergency plumbing repair is available in Grand Prairie
You do not have to wait for "regular" business hours to have a faucet or toilet repaired. Mr. Rooter Plumbing of Fort Worth is proud to offer emergency plumbing repair, drain cleaning, clogged drain line repair, sewer repair, trenchless sewer line replacement, leak detection, water leak repair, water heater repair, and tankless water heater installation in all areas of Grand Prairie, TX. Call now to speak with a live representative and let us know what you need. We are ready when you are.