Plumber in North Richland Hills, TX
When the drains don't work like they used to, the toilet won't flush, or you otherwise need a plumber in North Richland Hills, the professionals at Mr. Rooter Plumbing of Fort Worth are ready to help. Call Mr. Rooter at any time of the day to speak with a live representative and let us know what you need. Our plumbers are experienced, trained, and equipped to meet a wide range of residential plumbing and commercial plumbing needs. Don't forget to explore our website to discover ongoing promotional offers, special coupons, and regular discounts. We are always happy to make plumbing repair and plumbing service in North Richland Hills as convenient as possible.
Reliable plumbing repair is a call away
The plumbing system is an integral part of any building, responsible for delivering clean water to and removing waste and wastewater from your property. There are many components and moving parts at play, and each is susceptible to wear and tear, accidental damage, the elements, and so forth.
Whether your faucet is leaking or your water heater has stopped doing its one job, a uniformed plumber is one call away. Mr. Rooter Plumbing is proud to offer quick and affordable plumbing repair in North Richland Hills at any time of the day. Call now to schedule an appointment or request emergency plumbing repair today.
Schedule routine plumbing service for peace of mind
Interrupting your schedule for plumbing repair can be frustrating, especially if there is water damage involved. If you want to reduce the risk of unexpected repairs, then routine plumbing service is key. Here are some services that can help nip issues in the bud, before they become a headache: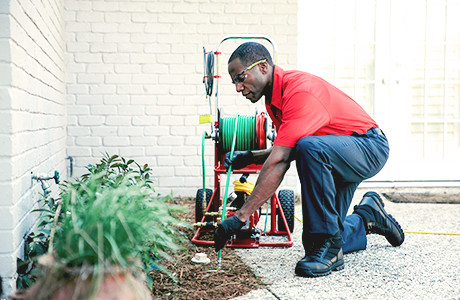 Drain cleaning: Clogged drains can cause slow drainage, foul odors, and wastewater and sewage backups. Periodic drain cleaning can keep drains flowing seamlessly.
Leak detection: It's easy to spot a leaking faucet or toilet, but what about hidden leaks? Our plumbers in North Richland Hills have the eye and equipment to pinpoint hidden leaks.
Water heater maintenance: Water heaters are incredibly convenient, supplying your building with hot water essential for handwashing, showering, cooking, and more. Neglected water heaters, however, can expire prematurely and even pose serious safety risks!
Plumbing inspections: How are those pipes doing? Even the sturdiest of materials can corrode and rust. Periodic inspections are important if you want to replace weak links BEFORE they cause problems.
Leave replacement and installations to the professionals
Is it time to replace your toilet? Have you purchased a new tankless water heater that needs to be installed? Leave the heavy lifting to the professionals. Our experienced plumbers are trained and equipped to replace and install residential plumbing and commercial plumbing fixtures and appliances. Let's get the job done right the first time around!
Emergency plumbing repair in North Richland Hills, TX
A plumbing emergency can strike at the worst time! Fortunately, the plumbers at Mr. Rooter Plumbing of Fort Worth are always ready to strike back. Call us at any time of the day to request emergency plumbing repair, drain cleaning, clogged drain line repair, sewer repair, trenchless sewer line replacement, leak detection, water leak repair, water heater repair, tankless water heater installation and all other plumbing services in North Richland Hills, TX!